This story begins on a beach in Thailand. It was 2011, and Jesse Watkins was backpacking through Thailand with friends when he rolled his ankle while chasing a crab on a beach.
Thinking the pain would subside quickly, he did not seek any type of medical treatment. For the next three years, Jesse endured intense pain focused in his right ankle but referring up through his right knee and quadriceps. He says, "The pain was awful. I could only be standing for very minimal time each day."
At the time, Jesse was living in Northern Virginia. He tried to ignore the pain and continue his regular routine, including working at a restaurant, lifting weights and golfing. He attempted to manage his pain with chiropractic adjustments, massages, and pain medications, but the pain did not subside.
Finally, in 2014, Jesse visited an orthopedic surgeon who took an MRI on his ankle. The MRI concluded he needed to have surgery to repair the torn ligaments and tendons in his right ankle. Following the ankle surgery, he began physical therapy treatment for around 8 weeks. Jesse recalls this first experience with physical therapy was not especially positive. He says, "I felt like the PT treatment was very passive. The treatment plan wasn't clearly laid out for me."
He self-discharged from PT early but continued his ankle exercises as instructed. He says, "It took me about 6 months of very light working out to heal, versus the 6-8 weeks that was planned, just to get myself back to where I felt good." At that point, he resumed all activities including golf and his work out routine, lifting weights 3 to 5 days a week. The pain returned.
Jesse says, "Someone who is active like me, when you are told by a doctor that you need to rest, but you feel good in your body, you're going to get right back to doing whatever it is you were doing… and that's the problem. "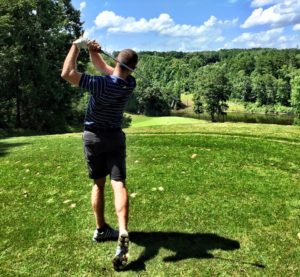 In early 2015, Jesse moved home to Halifax County, Virginia to help run his family business, the Nola Watkins Collection. He dove into working with the business, still managing his chronic pain with chiropractic care, massage, and medication. Then Jesse was introduced to Hot Asana Yoga Studio in nearby Danville and started practicing yoga regularly. He says, "My body felt ten times better than it ever did before, but staying so active still caused flare ups and inflammation."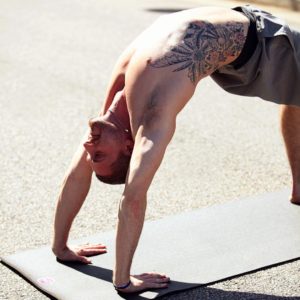 Jesse became a certified yoga teacher in 2016. He says, "Becoming a yoga teacher gave me the opportunity to learn how everything in the body is connected. I began to notice a lot of my pain was due to never giving my body proper rest for it to be able to heal fully."
He continued teaching and practicing yoga, complemented by regular chiropractic care and massage for immediate pain relief, but he began to grow fatigued by the cycle of chronic pain. He says, "As a yoga teacher, my job is to help people feel good in their bodies. It is extremely frustrating when I don't feel good in mine."
In early 2017, a flare up of pain in his right shoulder led Jesse to visit an orthopedic surgeon again. This physician recommended trigger point dry needling by a physical therapist. After one dry needling session, Jesse's shoulder felt better, but he could not continue treatment because it was time to travel back to Thailand, where this story began. Following 8 weeks of intensive yoga teacher training and traveling, he returned to his full teaching schedule at Hot Asana in Danville and at the YMCA in South Boston, Virginia. It was not long before he began to experience severe pain in his right lower back.
When this flare up of low back pain caused Jesse to cancel a golf outing, a friend suggested he give physical therapy another try. This led Jesse to schedule an appointment with Dr. Will Nutt, PT at ACI Physical Therapy in Roxboro, NC.
Dr. Will Nutt, PT is a doctor of physical therapy with additional certification in trigger point dry needling. Dr. Nutt's hands-on approach, combined with his background as a collegiate athlete, makes him particularly skilled at helping physically active people rehabilitate from injury, reduce pain and return function.
After evaluating Jesse's past injury and history of pain, Dr. Nutt began treating Jesse's "cranky right side" with trigger point dry needling, manual therapy and therapeutic exercises specific to Jesse's problem sites. The goal of Jesse's physical therapy treatment plan is to reduce or eliminate his chronic pain, at long last. Jesse says, "I really appreciate how well Will explains what is going on in my body, how pain in one area leads to pain in another and what each treatment is designed to do."
After just one physical therapy treatment, Jesse says he felt 100% better, but still ignored Dr. Nutt's instruction to take it easy. Within a few days full of physical activity, Jesse's pain returned, this time traveling from his right calf up to his low back.
After the second treatment, Jesse again experienced immediate relief for his low back and leg pain. This time, he took time to rest his body, and enjoyed being nearly pain-free for almost a week – which is a huge milestone in the context of this story!
With several physical therapy treatment sessions remaining in his plan of care, we look forward to helping Jesse effectively reduce his pain for the long-term so that he can fully enjoy his active lifestyle. Stay tuned – we will keep you updated!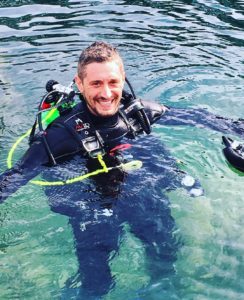 ---
If you are suffering from chronic pain, do not continue suffering – get physical therapy! It is extremely likely that physical therapy can help you reduce or eliminate the pain. Contact us to schedule an evaluation with one of our expert physical therapists:
Roxboro: (336) 322-5335
Yanceyville: (336) 694-1305
Eden: (336) 627-7778
Summerfield: (336) 643-7335